Protect the Foundation of Your Family's Financial Home
Doesn't it seem there's no limit to the financial decisions you constantly make as a parent?
From figuring out how much you can afford to spend on birthday parties, to which cell phone carrier to pick, to what sort of health care plan to get – it's enough to make you want to throw your hands up.
Consider this: if making all those family financial decisions on a limited budget seems difficult now, imagine how much tougher it will be for your spouse or partner if you die unexpectedly, says Sean Scaturro, director of life and health insurance advice at USAA and a CERTIFIED FINANCIAL PLANNER™ practitioner.
Life insurance can seem just as confusing as any other financial choice you have to make for your family. Do you buy a "term" or a "perm" policy? What's the difference? How much life insurance do you really need, anyway?
Picking the Best Policy for Your Family
As with any other family budgeting decision, life insurance comes with a trade-off. If you don't purchase it, money is freed up for other things. If you do get it, you'll have to cut your expenses in another area.
The nice thing is that a basic life insurance policy might be a lot more affordable than you think. In fact, a recent LIMRA study found that 44 percent of young people "overestimate the cost at five times the actual amount."
If you're young and can't afford much of an extra hit to your family's monthly spending budget, a basic term life insurance plan might be your best option.
How did you free up money to secure life insurance for your family? Help others do the same — share your methods in the USAA Community forum.
Term policies usually cost considerably less per month in premiums for younger policyholders initially than permanent, or whole, life insurance. A term policy covers you for a set period, like five, 10 or 20 years. Once that term is up, your premium is no longer fixed or your coverage may expire. You don't get anything back if you outlive the policy's term.
A whole, or permanent, life insurance policy typically has higher monthly premiums for younger policyholders than a term life policy. However, a whole life policy covers you for your entire life and can cost you less overall than taking out successive term life insurance policies over the course of your life, especially if you lock in lower monthly rates when you're young and healthy. Whole life insurance also accrues a cash value over time that you can draw on while you're alive, sort of like a savings account.
What Does Life Insurance Cost?
To give you an idea of what a life insurance policy might cost, here's the starting point for USAA's offerings:
Something Is Better Than Nothing
Ideally, you'd like your life insurance policy to cover "five times your annual income and 100 percent of your debt," Scaturro says. A life insurance settlement of that size wouldn't ease your family's emotional pain, but it would make the financial implications of losing you easier to handle.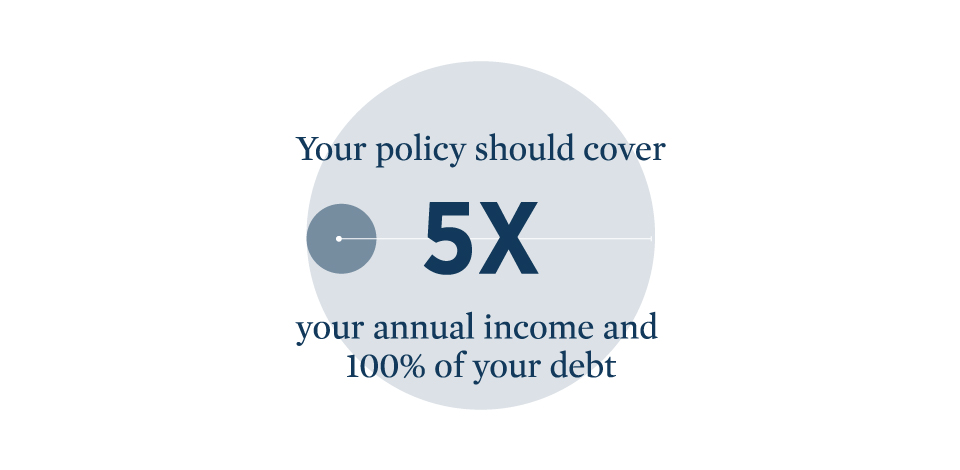 You may not have the flexibility in your family budget to afford the monthly premiums required to purchase such a policy. That's OK, but don't let it stop you from buying any life insurance at all.
"A basic term life insurance policy can be perfectly fine for a young person," Scaturro says. "There's nothing wrong with starting with a small policy. As you get older, things will change, hopefully for the better. You need to review your life insurance on an annual basis and upgrade it when you can."
Some employers offer what's called a basic group life insurance plan, which is a life insurance policy the employer pays for, that offers death benefits of anywhere from $25,000 to one or two years of your annual income. You definitely should sign up for an employer-backed life insurance plan, if it's offered. Keep in mind that if you change jobs, you might not be covered unless you have a personal life insurance policy, Scaturro says.
Don't Make Yourself Insurance Poor
It's great to be insured against the misfortunes that can happen in life, but if you're spending too much on insurance at the expense of things like saving and paying down debt, that could be a problem, Scaturro says.
Being "insurance poor" is a condition that afflicts people who buy more insurance than makes financial sense. Such people may be well-protected financially against bad things happening, but they may not be positioning themselves well enough to take advantage of good things, like raising a family and living a long life.
"Let's say you want a life insurance policy to replace your income for 20 years. If you make a good income, maybe you get a recommendation for $2 million in coverage, which you can't afford," Scaturro says. "Instead of buying it, you should be paying down debt or building up savings rather than being overinsured and savings poor.
Ultimately, you'll have to decide how much money you're able to direct each month toward a financial backup plan for your family. Getting a basic term life insurance policy with low monthly rates may be the best option for you now. Something is better than nothing, and it may give you better peace of mind about living up to your responsibilities as a parent.
Are you on active duty? USAA Term Life Insurance for the Military offers special benefits for military members at no additional cost, including accelerated underwriting upon deployment, guaranteed SGLI replacement and a $25,000 benefit for severe injuries in the line of duty.
Sean Scaturro is a CERTIFIED FINANCIAL PLANNER™ practitioner and serves as USAA's director of life and health insurance advice. He joined USAA in 2006 and has served members previously as a wealth manager and a practice management consultant. He has 15 years of financial services experience. Prior to joining USAA, Sean worked in commercial insurance focusing on workers' compensation, group health insurance and other financial services.
---
Certified Financial Planner Board of Standards, Inc. owns the certification marks CFP® and CERTIFIED FINANCIAL PLANNER™ in the United States, which it awards to individuals who successfully complete the CFP Board's initial and ongoing certification requirements.
USAA means United Services Automobile Association and its affiliates. Financial advice provided by USAA Financial Advisors, Inc. (FAI), a registered broker-dealer, USAA Investment Management Company (IMCO), a registered broker-dealer and investment adviser, and for insurance, USAA Financial Planning Services Insurance Agency, Inc. (known as USAA Financial Insurance Agency in California, License # OE36312). Investment products and services offered by IMCO and FAI. Life insurance and annuities provided by USAA Life Insurance Co., San Antonio, TX, and in NY by USAA Life Insurance Co of New York, Highland falls, NY. Other life and health insurance from select companies offered through USAA Life General Agency, Inc. (known in CA (license #0782231) and in NY as USAA Health and Life Insurance Agency). Banking products offered by USAA Federal Savings Bank and USAA Savings Bank, both FDIC insured. Trust services provided by USAA Federal Savings Bank.
255846 - 1018