Military Spouses: Empowered by the Challenges of Service
Nicole Nebergall didn't know how much her life would change when she started dating her future husband, Chad, nearly a decade ago. He was already several years into his career in the Army. She had put in roughly the same amount of time launching her career in banking.
Eight years into their marriage, Chad is on track to do a full 20 years in the Army. Nicole has pursued her banking career in fits and starts, moving every few years with her husband and their now 3-year-old girl.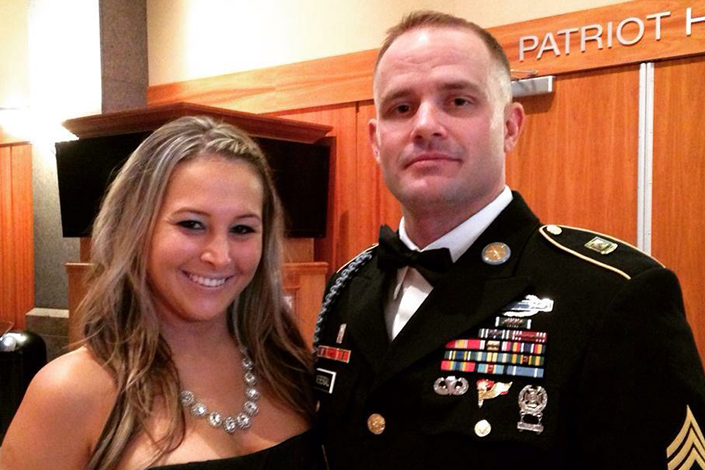 Nicole Nebergall, left, and her husband Chad Nebergall (US Army, Active Duty)
Chad is regularly deployed overseas, leaving Nicole to care for their daughter when he's away from the base in Hawaii where they're stationed. She's managed to maintain her career despite all the moving – though she has to clock in at 4 a.m. Hawaii time for her current job.
Other military spouses face even more difficult challenges, such as assisting a wounded partner with daily life tasks or even losing their partner in combat. But there are also tangible benefits to military spousehood – educational, work and travel opportunities – and intangible ones such as deep, enduring friendships with other military spouses and the pride one feels in serving one's country.
It's the life of a military spouse, full of sacrifices and rewards. We recognize both on Military Spouse Appreciation Day, which was first declared by President Ronald Reagan on May 23, 1984 to commemorate military spouses' "unselfish contributions to the spirit and well-being" of active-duty service members.
"To be honest, before I met my husband, I had no idea what being a military spouse encompassed," Nicole says. "I had no idea what the lifestyle would be like. I didn't grow up in a military town. I had no idea."
One thing the Nebergalls had from the beginning was a spark that carried them through the earliest days of their courtship despite being apart for long stretches of time.
"We had a long-distance relationship for the first year after we started dating. He was stationed in El Paso, Texas, and I was still living and working in Florida, where we met," Nicole says.
"When we decided to move in together, he was going to Fort Benning. I had been in banking for as long as he'd been in the Army. I was faced with a big decision: quit my job and move in with him or continue dating him long distance. Luckily, when we moved to Fort Benning, I was able to start with another bank."
The Challenges Facing a Military Spouse
Throughout the years, as the numbers of our married men and women in uniform have grown and as their military missions have become more complex and dispersed, their spouses have made countless personal sacrifices to support the Armed Forces. In many instances, they subordinated their personal and professional aspirations to the greater benefit of the service family.
— President Ronald Reagan, declaring Military Spouse Appreciation Day
Ask a military spouse to name the most difficult things about the lifestyle, and you'll likely hear about frequent moves, weeks and months spent apart from a husband or wife, caring for children without a partner for lengthy periods of time, interruptions to career ambitions and, of course, the worry that comes when a spouse is deployed for dangerous duty.
The Nebergalls have been stationed in Hawaii for nearly two years. Nicole believes that if all goes as planned, it will be the couple's second-to-last permanent change of station before Chad retires.
One of the toughest challenges for Nicole as a mother is helping her daughter cope when her father is away for long stretches at a time.
"She's only 3, and I didn't think she would be as impacted when he left, but even at that age, they're really affected," Nicole says. "Every night, she's like, 'Where's Daddy? Is Daddy going to come home?' So we got her a Daddy Doll — an Army Daddy Doll — and put his picture in it."
Those sorts of stories are part of the reason Andrew Walters and his husband, James Hubby, a non-commissioned officer in the Air Force, have delayed a decision about whether to have kids.
"In terms of family, in terms of pursuing career opportunities, I'm not always able to do everything I want. But we didn't get married until we were both in our 30s, so you have a better sense about what the life is about just by being older and more experienced," Andrew says.
"And that helps you decide if you're going to commit to a life of service. Because you're not an ordinary civilian couple anymore. You're serving together."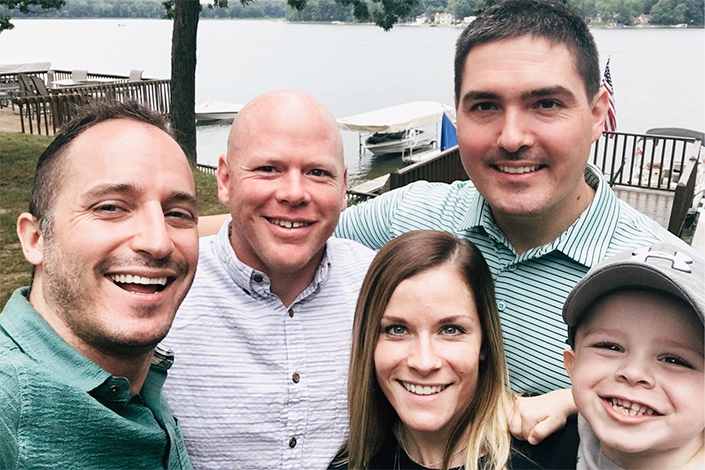 Andrew Walters, far left, and his husband James Hubby (USAF, Active Duty) visiting with Andrew's sister Elizabeth Lynch, brother-in-law Charles Lynch and nephew Charlie at their family lake home in Michigan.
The Benefits: Family All Over the World
Responding to the call of duty, they frequently endured long periods of separation or left familiar surroundings and friends to re-establish their homes in distant places. And there they became American ambassadors abroad.
— President Ronald Reagan
Forging lifelong friendships in different places every few years is a skill mastered by many military spouses. It can be difficult to move frequently, but out of that hardship can come a greater appreciation for the special bonds created within the military family.
Elizabeth Crepeau, married to Jeff, an officer in the Air Force, was initially "surprised by how difficult meeting new people and making new friends can be when you move around." She eventually honed that skill and came to love traveling to new places with her husband.
"A lot of people don't like the moving around, but I love it. I love meeting new people with different perspectives and lifestyles that I wouldn't have met otherwise," she says.
The Crepeaus have been stationed in some far-flung locations, including Hawaii and South Korea. The couple had to live off-base in Seoul because South Korea is a remote tour assignment. Far from being a negative, Elizabeth says the immersion in a different culture was one of her favorite experiences as a military spouse.
It was in South Korea that she discovered a new appreciation for services offered to military family members by organizations like the Air Force's Airman Family Readiness Center, which offered Korean language classes.
Like Nicole Nebergall, Elizabeth says maintaining career continuity can be difficult as a military spouse. In recent years, there has been a national effort in the U.S. to streamline state licensing and certification requirements for military spouses working in professions like teaching and nursing to help them hit the ground running when they move for a PCS.
But those welcome changes don't apply overseas. In South Korea, Air Force rules barred Elizabeth from working in the private sector. Fortunately, she was still able to add to her employment history through work with another service branch.
"I wanted to make sure my resume didn't have a huge gap, so I ended up volunteering a bunch at the Army base there, keeping my skills up to speed and avoiding that big gap in my resume," she says.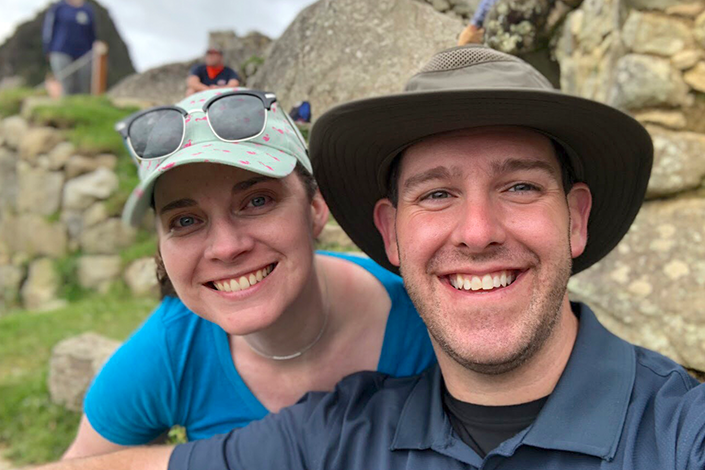 Elizabeth Crepeau, left and her husband Jeff Crepeau (USAF, Active Duty)
Being There for Others
As volunteers, military spouses have provided exemplary service and leadership in educational, community, recreational, religious, social and cultural endeavors. And as parents and homemakers, they preserve the cornerstone of our Nation's strength — the American family.
— President Ronald Reagan
Helping other military families is part of daily life for many military spouses. Sandra Rose and her husband, Tom, who recently retired as a major in the Marines, spent a good portion of their years at Camp Pendleton helping families with deployed spouses with chores or even providing emotional support during tough times.
Sandra recalls when one of her best friends at Camp Pendleton broke the news to her young children that the family would be moving and leaving friends behind.
"It was heartbreaking," she says.
Sandra and Tom are happy to finally put down permanent roots in New Orleans with their 2-year-old son. But she says she'll always look back fondly on her time as an active-duty military spouse.
"We both kind of miss it in some ways. Living on base changes the whole experience because everybody is going through the same thing you're going through," Sandra says.
"Tom would always offer to cut our neighbors' grass and do whatever they needed when someone was deployed overseas. I would babysit for them. In a sense, you become family with your neighbors on base."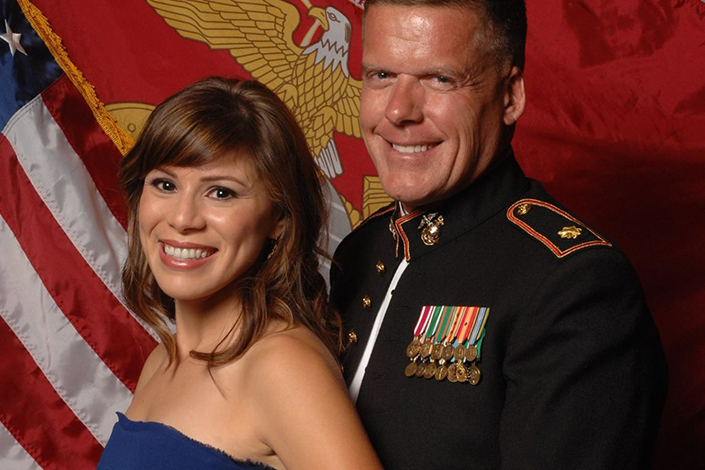 Sandra Rose, left, and her husband Maj. Tom Rose (USMC, Retired)
Andrew Walters lives off base but says he feels a "responsibility to show my face and be supportive" of spouse and family activities at the base where James is stationed.
"I think it's important for everybody to be available to help out on base where they can. There are some really awesome resources available through the family support centers and Family Readiness Groups when people put in the time to contribute," he says.
The Empowering Gift of Service
NOW, THEREFORE, I, RONALD REAGAN, President of the United States of America, do hereby proclaim May 23, 1984, as Military Spouse Day, in recognition of the profound importance of spouse commitment to the readiness and well-being of service members on active duty and in the National Guard and Reserve, and to the security of our Nation. I invite all the Armed Forces, the Army, Navy, Marine Corps, Air Force and Coast Guard, the Departments of Defense and Transportation, the Governors of the several States, the chief officials of local governments, and the people of the United States to observe this day in an appropriate manner.
— President Ronald Reagan
Distance from friends and family can try the resolve of even the most experienced military spouses. Being far away from a familial support network is especially tough for spouses who are raising children while their husband or wife is deployed, Nicole Nebergall says.
Nicole and Chad have been apart for most of the past two years she's been in Hawaii. "He's been home for three months of those," she says.
"I'm really close with my family, and Hawaii is so far away from my support network. It's a long trip from Florida, and it's expensive," Nicole says. "Of course, I've made some really great friends in the Army and met some really great spouses, and we'll be lifelong friends. That helps you keep your sanity because you know what each other are going through."
Andrew Walters echoes that sentiment, noting that the support given by one's military family helps enormously. So does the knowledge that there's a purpose behind the hardships a military spouse endures.
His husband is regularly deployed for six months at a time — the latest, a deployment to Kuwait — and that gives Andrew an opportunity to reflect on how those separations can strengthen his resolve as a military spouse … and to further bond with the couple's rambunctious pair of cats.
"People can see deployment and separation from a spouse as a negative thing, but it's also a chance to really assess what your values are and to get to know what's important," he says.
Are you a military spouse? Meet and seek advice from other spouses in USAA's Military Life Discussion Forum.
252198 - 0518