How Good Timing Can Shave Life Insurance Costs
Life insurance needs a new publicist – studies show it's often viewed as more expensive than it really is and, worse, as something that isn't a necessity.
The truth is, for the monthly price of a pizza, you could help ensure that an unexpected event doesn't sink your family's lifestyle. So, let's clear up some myths about the cost of life insurance, when you need to buy it and other basics you need to know.
Simply put, getting life insurance helps you take steps to ensure what you want to happen for your family when you die actually happens. It turns your desire into a reality for your loved ones.
Getting Real About the Cost of Living
Whether your household runs on one or two incomes, have you put a plan in place if one income were to suddenly disappear? Aside from covering the expense of a funeral, what happens to the special moments you or your partner planned on participating in? Maybe you intended to send your parents on an anniversary weekend, put your kids through college or pay for a wedding.
Above all, you want to maintain your family's quality of life – even if you're struggling now, you don't want them to do even worse in your absence. Life insurance offers you that peace of mind in case of an unexpected loss.
So how much of your salary would you need to replace?
"Start with how much money it would take to pay off all debts and then, for income replacement, we recommend coverage to replace five years of income," says Sean Scaturro, director of life and health insurance advice at USAA and a CERTIFIED FINANCIAL PLANNER™ practitioner.
Do I Really Need to Buy Life Insurance Now?
An easy way to determine the answer to this is to consider the following:
Do you have debts, like credit card payments or a mortgage? If you died unexpectedly, your family would be saddled with the burden of paying everything off. Would you want to dump that on them, especially while they're grieving?
Do you have children? How will your partner manage to cover their braces, college educations, weddings and all the other necessities and milestones in life without your income?
Are you planning on growing older? Of course you are. And the older you get, the higher your payments will be when purchasing a new life insurance policy. (More on that below.)
If you answered "yes" to even one of the above, consider getting a policy in place. Take the opportunity to get peace of mind and get the lowest rate you can – as soon as possible.
When to Buy Life Insurance
Here's the thing: You're always going to get older. The longer you wait, the more you'll pay. Your health and your age are going to cost you more as time goes by. Purchasing life insurance when you're young "helps you save in the long run," Scaturro says.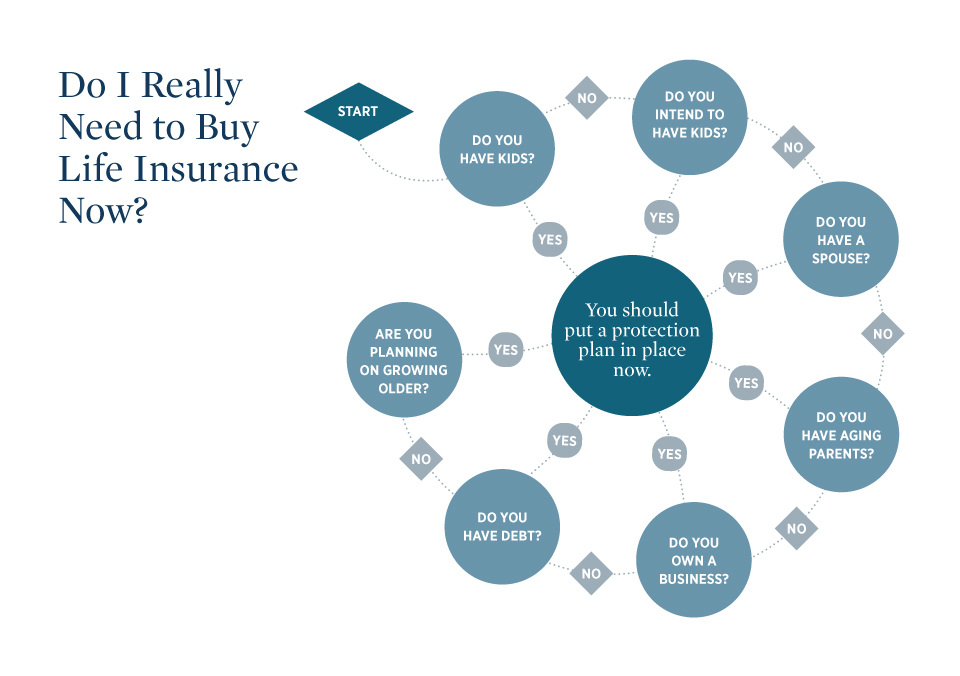 What does waiting look like?
Well, if you're a relatively healthy 30-year-old nonsmoker and you take out a term policy that would provide your loved ones with $250,000 in coverage, your monthly payment could be as low as $18, paid over the course of the 20-year term.
If you wait until you're 40 to purchase – and still a healthy nonsmoker – that amount typically jumps to around $28 per month. If you wait until retirement, that number will be well into the triple digits per month. Is that an expense you want to incur when you're on a fixed income?
But I Have Life Insurance Through My Job
While it's a nice short-term cushion, it's still short term. Many people don't realize that the average policy offered through an employer is only two times your base salary. And if you leave that job, it likely doesn't go with you! That figure may sound like a lot now, but after experiencing a death, the "majority of families feel financial pain within six months or less," Scaturro says.
Ready to protect the future of your family? Use our calculator to determine your life insurance needs. Contact a USAA financial advisor today at 800-531-8722.
Sean Scaturro is a CERTIFIED FINANCIAL PLANNER™ practitioner and serves as USAA's director of life and health insurance advice. He joined USAA in 2006 and has served members previously as a wealth manager and a practice management consultant. He has 15 years of financial services experience. Prior to joining USAA, Sean worked in commercial insurance focusing on workers' compensation, group health insurance and other financial services.
---
Certified Financial Planner Board of Standards, Inc. owns the certification marks CFP® and CERTIFIED FINANCIAL PLANNER™ in the United States, which it awards to individuals who successfully complete the CFP Board's initial and ongoing certification requirements.
USAA means United Services Automobile Association and its affiliates. Financial advice provided by USAA Financial Advisors, Inc. (FAI), a registered broker-dealer, USAA Investment Management Company (IMCO), a registered broker-dealer and investment adviser, and for insurance, USAA Financial Planning Services Insurance Agency, Inc. (known as USAA Financial Insurance Agency in California, License # OE36312). Investment products and services offered by IMCO and FAI. Life insurance and annuities provided by USAA Life Insurance Co., San Antonio, TX, and in NY by USAA Life Insurance Co of New York, Highland falls, NY. Other life and health insurance from select companies offered through USAA Life General Agency, Inc. (known in CA (license #0782231) and in NY as USAA Health and Life Insurance Agency). Banking products offered by USAA Federal Savings Bank and USAA Savings Bank, both FDIC insured. Trust services provided by USAA Federal Savings Bank.
255845 - 0918