Five Reasons to Choose Community College
There's a stack of brochures on your counter, all touting beautiful campuses and smiling students strolling to class. If your kid is in his or her junior or senior year of high school, college is likely a constant topic of conversation.
Heading off to a traditional four-year university is a rite of passage for many young people. But it's also an expensive one. Sometimes community college makes more sense both financially and strategically.
Choosing the Right Path to College
The cost of tuition and housing at a four-year university isn't the only challenge to consider, says Josh Andrews, advice director for military life advice, investments and education at USAA and a CERTIFIED FINANCIAL PLANNER™ practitioner.
"Some young people aren't necessarily ready to take on the challenges of attending and excelling at a four-year college. For older students returning to or continuing their education, the flexibility of community college can be a better fit," he says.
Here are five factors to consider when you're making big decisions about your college education or helping your kids make theirs:
Cost savings. Community college can save you money in a number of ways, Andrews says. Tuition at a community college is generally much less costly than at a four-year university, but that's just the beginning. Many community college students opt to live at home during their studies, saving additional money on room and board.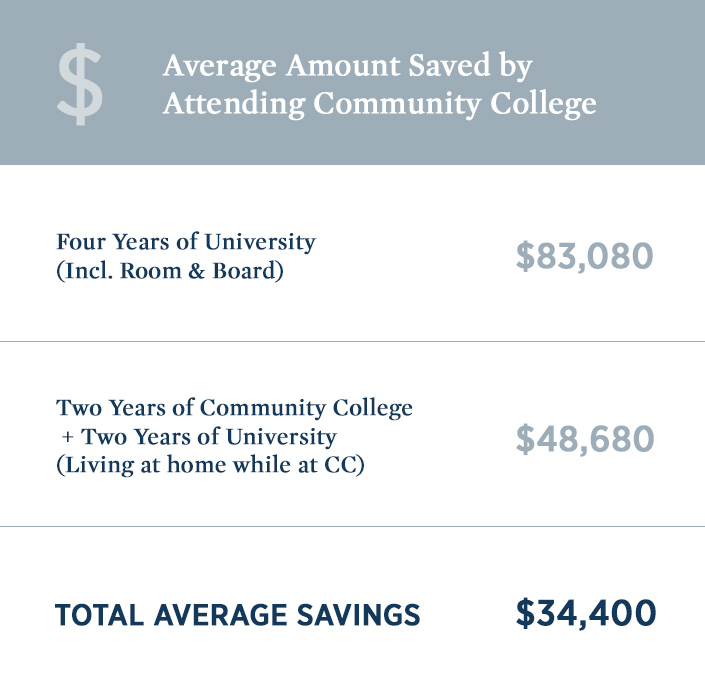 Source: USAA
Those savings typically mean less debt, and that's a big deal, Andrews says.
"Having less debt from student loans gets you started out on better financial footing when you get your first job," he says. "That means you can start saving to buy a house, for your retirement and for other things that much sooner. It also reduces the stress you might feel about paying back all that debt."
Schedule flexibility. Students who work or who have obligations like child care can really benefit from the more flexible class schedules offered by community colleges, Andrews notes. If you don't have the time or the funds to attend school full time, you can attend classes and pick up credits at your own pace at a community college.
Another shot at proving yourself. Not everybody was on the dean's list in high school. The bad news is that poor, average or even solid but unspectacular grades and test scores can limit your choices of a four-year school. The good news is community college can offer you a fresh start.
"If you attend a community college and apply yourself, plenty of four-year universities will accept those grades and credits," Andrews says. "Success at a community college can help diminish the effect of a poor high school performance."
Smaller class sizes. It can be jarring for many young students to go from the more intimate learning environment of high school to the large, impersonal lecture halls of a four-year university, Andrews notes. Students who require more one-on-one time with their instructors can find that more easily at a community college.
"Some folks are going to find that the format of a four-year university isn't conducive to them being successful out of the gate. Community college can ease students who perhaps come from a small town or haven't experienced anything like a college lecture hall tothe college environment," Andrews says.
Fewer distractions. The "college life" is a big part of the appeal of four-year universities. Unfortunately for some youngsters, handling the balance between working hard and having fun proves too difficult a challenge. That can have negative financial and educational repercussions.
Community college can offer a more academically focused alternative for students who aren't ready for the responsibilities of living and studying at a four-year school, Andrews says.
Choosing to attend a community college before university can save you money and provide a more amenable environment for pursuing your education. There may be other factors to consider — for example, athletes who haven't been offered a spot in an NCAA program might choose a community college to keep the dream alive or simply to keep playing a sport they love.
The important thing is to weigh all the factors and make the choice that's right for you, Andrews says.
Want some tools and strategies to help you save for education and avoid drowning in student loan debt? Get the help you need through USAA Education and Training.
Josh Andrews is the advice director for military life advice, investments and education at USAA and is a CERTIFIED FINANCIAL PLANNER™ practitioner. A native of Cullman, Alabama, Josh earned his bachelor's degree in engineering from the Air Force Academy and his master's degree in financial planning from Kansas State University. Prior to joining USAA in August 2011, Josh served 11 years on active duty in the Air Force  and is currently a lieutenant colonel in the Air Force Reserve, where he serves as the director of USAFA admissions for South Texas.
---
This material is for informational purposes. Consider your own financial circumstances carefully before making a decision and consult with your tax, legal or estate planning professional.
The trademarks, logos and names of other companies, products and services are the property of their respective owners.
Certified Financial Planner Board of Standards, Inc. owns the certification marks CFP® and CERTIFIED FINANCIAL PLANNER™ in the United States, which it awards to individuals who successfully complete the CFP Board's initial and ongoing certification requirements.
252366 - 0518