Doing Everything in Your Power to Protect Your Family's Future
It can be difficult to see the benefits of life insurance when you're young and healthy. It can even seem weird to bring it up with your partner – after all, you're building a life together and planning for a future that has both of you in it for a very long time.
That's how it should be, but sometimes even the best-laid plans can go awry. Young and healthy doesn't mean immune to accidents and bad luck.
Is Your Family Prepared for a Loss?
If you're like many young couples, you have two incomes that are crucial to your family's financial stability. You might be planning to have kids or already have them.
Now imagine those children lose a parent. Suddenly, everything in their life that required two incomes must be supplied by just one income. Suddenly, the surviving parent is forced to make tough choices – not just about nonessentials like toys and entertainment but about basics like the rent or mortgage, health insurance, childcare and groceries.

Without contingency resources like savings, home equity or life insurance to draw on, a surviving parent might be forced to drastically change their family's lifestyle. That could mean moving to a smaller home, relocating to a less desirable neighborhood, changing schools or taking on a second job. It could mean asking parents to tap into resources they were hoping to use for their retirement and to pass along later to you and your children.
Awful things can happen, and those left behind must pick up the pieces as best they can. Life insurance can't come close to filling the gaping hole left when a loved one passes away. But it can make picking up those pieces a little easier.
Managing Your Balancing Act
When you're starting a family, money can be very tight. Every dollar in your already stretched-thin paycheck is probably spoken for. How are you supposed to add something like life insurance to your stack of bills?
But if it's a balancing act just to make ends meet now, imagine how much tougher it will be if a primary earner in your family passes away.
"Young parents have all these responsibilities, and they may not have all the ingredients yet to make a strong financial pie. But they're trying, and it can get confusing as to where they should be directing their limited income to grow and protect their family," says Sean Scaturro, director of life and health insurance advice at USAA and a CERTIFIED FINANCIAL PLANNER™ practitioner.
"There's nothing wrong with starting with a small policy. As you get older, things will change for you financially, hopefully for the better. You can review your life insurance on an annual basis and upgrade it if you're in a better position to do so."
It's Not as Expensive as You Think
Many young people believe life insurance is extremely costly. They often assume that even a basic policy is up to five times as pricey as it really is, according to Scaturro.
A term life insurance policy can start as low as $14 per month. Being young and healthy is an advantage because you'll get lower rates, and if you start paying into a policy at a younger age, you'll pay less for it overall.
Finding the extra money to pay for life insurance might be as easy as going without that second cup of coffee every few days, unsubscribing to a streaming service you rarely watch or switching to a better cell phone plan.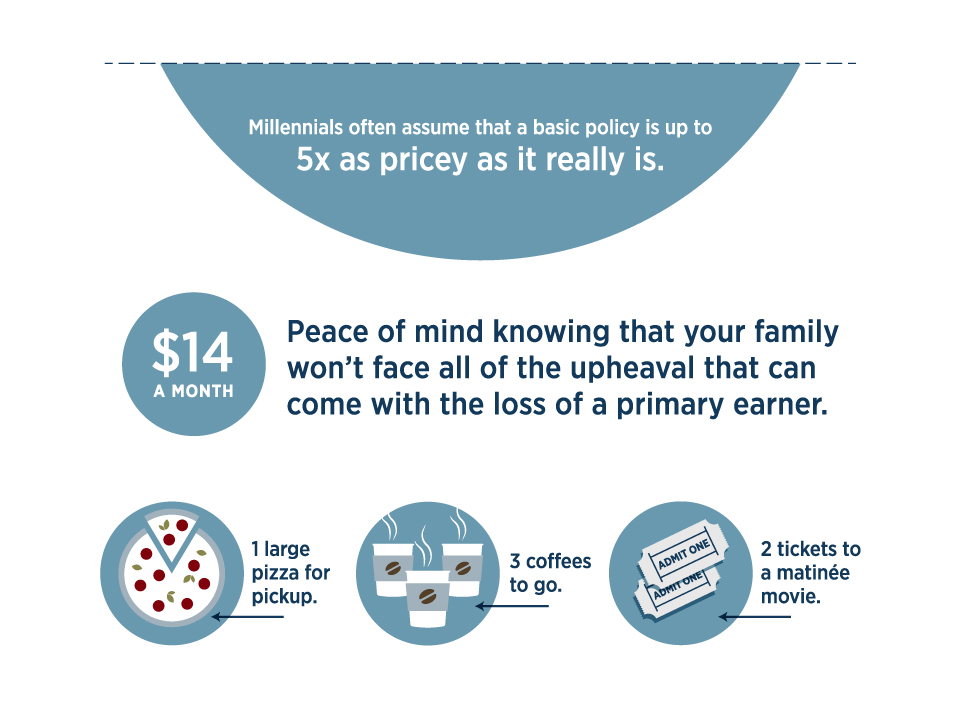 How Do I Know How Much Life Insurance to Get?
If you want to know how much life insurance you should get, Scaturro's recommendation for a basic, no-frills term policy is "enough to cover all of your debt, five years of your income and your final expenses."
Such policies cost quite a bit less than many people think. For example, Scaturro says that adequate term life insurance coverage for a 25-year-old in good health who is making $25,000 a year and has $5,000 in debt would be between $250,000 and $350,000. Here are some USAA monthly fee quotes for our hypothetical 25-year-old:
$250K coverage, 20-year term life policy: $14.78/month
$350K coverage, 20-year term life policy: $19.03/month
"So, for less than $15 a month, this person could get adequate life insurance coverage in place, and for about $19 a month, they'd have excellent coverage," Scaturro says.
The Added Benefits of Life Insurance
The value of life insurance doesn't just show up after you're gone. While you're still very much alive, you may be able to use a policy to your family's financial benefit.
For example, whole or permanent life insurance might offer something called cash value, which builds up as you pay more into the policy. You can borrow against the cash value of the policy while you're alive. You won't have to pay taxes on any amount you borrow if it's less than the amount you've paid into the policy.
Another benefit of life insurance is that it can provide you and your family with peace of mind. If the worst-case scenario happens, you can be confident that those left behind won't be financially devastated by your passing. Peace of mind means knowing your family won't face some of the upheaval that can come with the loss of a primary earner, Scaturro says.
Nothing can ever replace a departed loved one. But your family's financial foundation doesn't have to crumble if the worst happens.
Find out how much life insurance you may need to provide for your family.
Sean Scaturro is a CERTIFIED FINANCIAL PLANNER™ practitioner and serves as USAA's director of life and health insurance advice. He joined USAA in 2006 and has served members previously as a wealth manager and a practice management consultant. He has 15 years of financial services experience. Prior to joining USAA, Sean worked in commercial insurance focusing on workers' compensation, group health insurance and other financial services.
---
Certified Financial Planner Board of Standards, Inc. owns the certification marks CFP® and CERTIFIED FINANCIAL PLANNER™ in the United States, which it awards to individuals who successfully complete the CFP Board's initial and ongoing certification requirements.
Life insurance and annuities provided by USAA Life Insurance Company, San Antonio, TX, and in New York by USAA Life Insurance Company of New York, Highland Falls, NY. All insurance products are subject to state availability, issue limitations, and contractual terms and conditions.
Each company has sole financial responsibility for its own products.
USAA means United Services Automobile Association and its affiliates. Financial advice provided by USAA Financial Advisors, Inc. (FAI), a registered broker-dealer, USAA Investment Management Company (IMCO), a registered broker-dealer and investment adviser, and for insurance, USAA Financial Planning Services Insurance Agency, Inc. (known as USAA Financial Insurance Agency in California, License # OE36312). Investment products and services offered by IMCO and FAI. Life insurance and annuities provided by USAA Life Insurance Co., San Antonio, TX, and in NY by USAA Life Insurance Co of New York, Highland falls, NY. Other life and health insurance from select companies offered through USAA Life General Agency, Inc. (known in CA (license #0782231) and in NY as USAA Health and Life Insurance Agency). Banking products offered by USAA Federal Savings Bank and USAA Savings Bank, both FDIC insured. Trust services provided by USAA Federal Savings Bank.
256006 - 0918