"Deployed Again": Former Army Major General Pens Tribute Song for Military Families
| Photographs By Jerry Harrison
But every now and then / I can hear your voice in the wind / Then duty calls me / Back again
These powerful lyrics close out the chorus of "Deployed Again," a song penned by retired Army Maj. Gen. Jerry Harrison and producer Ken Holmes. Moved by the daily hardships he witnessed military families facing, Harrison, an amateur folk guitarist, was inspired to write the ballad as a tribute.
In 2015, the song caught the attention of retired Army Gen. Gordon Sullivan, then-President of the Association of the United States Army. After hearing the song, Sullivan tapped the U.S. Army Band Downrange to perform it at the 2015 and 2016 George C. Marshall Dinner events.
Since its debut in 2015, this heartfelt tune has become the unofficial anthem for Military Spouse Appreciation Day, which falls on May 12. To coincide with that celebration, we sat down with Harrison and his wife, Von, to get the full story behind the song's compelling lyrics and shed some light on the unique hardships military families face.
Gen. Harrison, what inspired you to write the song?
Gen. Harrison: My wife and I had dinner with a colonel and his wife one night. The colonel was in the Special Forces and had been deployed numerous times. Over the course of the dinner, his wife stated that she didn't think she could go through another round of deployment because it was so hard for their three boys. She told us that their middle son had asked her, "Why does Dad have to be gone so much?" She responded, "Because other people need him right now more than we do," and he asked, "How can anyone need Dad more than his own family?" That story always stuck in my memory, and I felt like I needed to do something to pay tribute to families like his.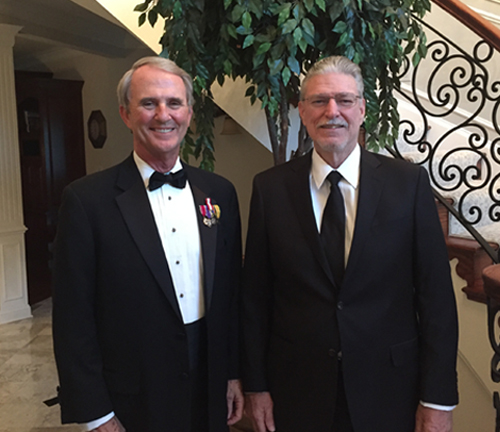 Harrison (left) met co-songwriter and producer Ken Holmes (right) in 2015, when Harrison's niece suggested he contact her friend's father (Holmes), a Nashville music industry veteran, to help turn the lyrics he'd written into a song. After a successful collaboration, Harrison and Holmes attended the 2015 AUSA Marshall Dinner together to see the song performed publicly for the first time.
What did you hope to accomplish by sharing it?
Gen. Harrison: I just want to show those who have served that their service is appreciated. I also wanted to shed light on some of the hardships that both military spouses and children go through.
Mrs. Harrison, what was it like for you when your husband was deployed?
Von Harrison: We were not married when he was deployed, so I didn't have that experience with him, but I lived and worked in Germany for the Army for almost eight years right after college. I have a master's degree in social work, and my first job was working as a therapist and director of the Army Alcohol and Drug Program. First and foremost, I was dealing with the service members, and secondarily, their spouses. I saw a lot of heart-wrenching stuff. For a lot of people, it was the first time that they were separated from their homes, wives, children and extended family, and they didn't know what to do.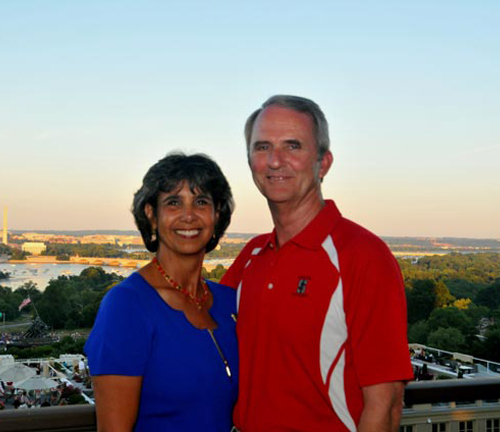 Von and Jerry Harrison celebrate the 4th of July at the home of a friend and neighbor in Arlington, Va., in 2012.
From your experience as an Army therapist, what do you think are the biggest challenges military spouses and families face?
Von Harrison: I think the biggest challenge is that one parent must carry all the pressure and responsibilities on their shoulders. I also think there's a financial component. But what it all boils down to is that the one spouse is left at home and has to deal with all there is to deal with in life by themselves.
Gen. Harrison: I would add that there's a sense of fear and uncertainty when a spouse is deployed to a combat zone. The kids worry that their mother or father may not come back. The fear they live with every day has an emotional impact, and I'm not sure that our society understands or appreciates it.

How do you celebrate Military Spouse Appreciation Day?
Gen. Harrison: I've always felt that I could celebrate the holiday by writing something. That's why Military Spouse Appreciation Day is such an appropriate time to listen to the song — because it's a tribute to military families.
Deployments are never easy, but you can take steps to prepare yourself and your family in advance with deployment advice from the USAA Advice Center.
Read

about how USAA member Judy Davis

managed her role as a military spouse, and v

isit usaa.com/milspouse to see how USAA recognized Military Spouse Appreciation Day on May 12.
---
241374 – 0417