Home Equity: What It Is And How It Can Help You
If you're like many people, the single most valuable thing you own is your home. If you've owned your home for a number of years and have paid down a considerable portion of your mortgage, you possess a valuable asset known as "home equity." You can use your home equity to make home improvements, remodel or even help you pay for things like continued education to secure a better job.
What's Your Home Equity Worth?
The simplest way to figure out what your own home equity amounts to today is to subtract any outstanding loan balances you have on your home from the property's current market value.
Let's say you owe $150,000 on a home currently valued at $200,000. Your home equity, or real property value, is $50,000. That's equity you can borrow against to do all sorts of things, like make home improvements or pay off higher-interest debt.
Just keep in mind that if you borrow against your home equity debt, you have to repay it monthly, just like a mortgage or a credit card.
Home Equity Loans Aren't Free Money
"Home equity is a great financial asset to have, but it's important to realize that you're borrowing on your home," says Matthew Angel, a USAA advice director and CERTIFIED FINANCIAL PLANNER™. "It can feel like you just made a bunch of money when you take out an equity loan or do a cash-out refinance, but in reality, you're borrowing it."
Home equity lines of credit¹ can be useful if you have irregular expenses, like during a remodel. You should be careful as it's easy to misuse and borrow more than you originally intended. Those wonderful home upgrades also come with a monthly payment that affects your bottom line going forward.
But Wait — A Word of Caution
When you borrow against your home equity, you push back the day when you've paid off all debt obligations on your home —a serious financial decision.
"We always like to see folks have a plan to pay off their home, especially by the time they retire. That takes pressure off their retirement situation and provides for extra flexibility," Angel says.
Picking the Right Home Loan Option for You
There are several loan options for borrowing against your home equity. These include an equity loan, a home equity line of credit (HELOC) and a cash-out refinance.
An equity loan generally has the highest interest rate among the three options, but the rate is fixed, so it won't change over time and you keep your existing mortgage.
The big advantage of a HELOC is that you can borrow different sums of money over time, similar to a credit card. The equity of your home serves as collateral, meaning you may have lower interest rates, but those rates can fluctuate.
A cash-out refinance is basically a brand-new mortgage that replaces your existing one, gives you some cash and restarts the clock on a new mortgage timeframe. If you can refinance to a lower rate, your payment may not dramatically change, but you delay how long it takes to pay off the loan.
Here's a breakdown on how each type of loan addresses a different set of needs: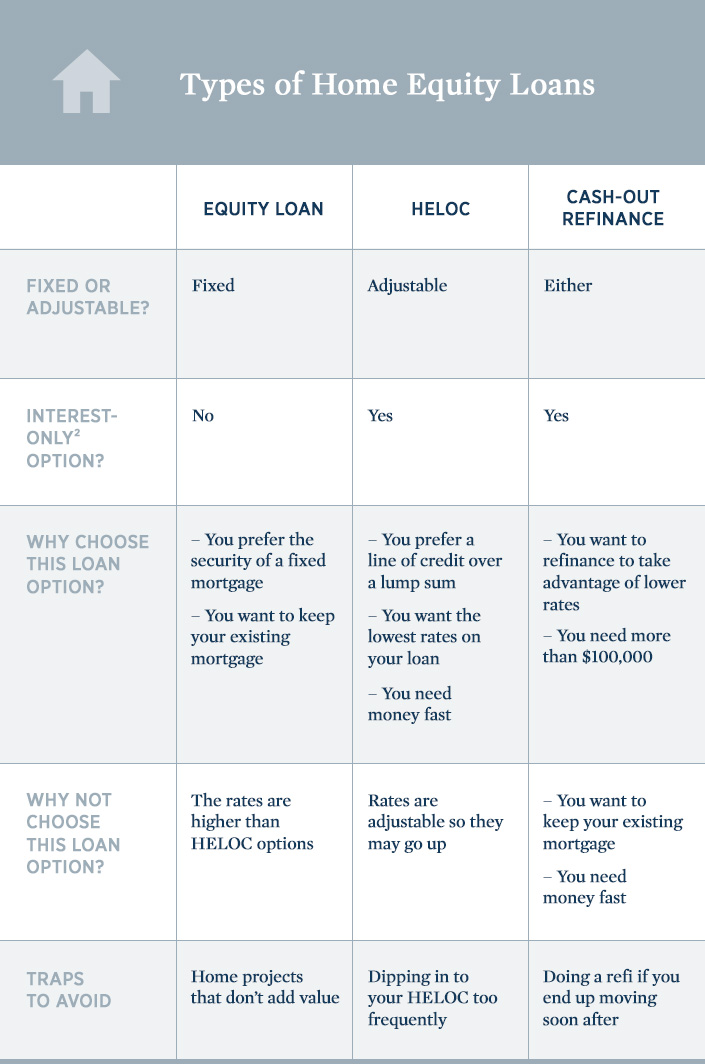 People typically use home equity loans, HELOCs and cash-out refinancing for the following reasons:
To make home improvements.
"HELOCs can be useful for home projects that are done in stages and where you don't know exactly how much they're going to cost," Angel says. "You can take out small amounts of money as needed, but remember to be careful. This isn't found money; it's debt just like a credit card."
If you've always wanted a swimming pool or a state-of-the-art kitchen or even fresh paint on the walls, you can use a HELOC to acquire the funds to pay for those projects. Angel cautions that if you're planning to sell your home soon, such home improvement expenditures may result in a net loss because the new pool or kitchen might not add as much to the selling price as you'd hoped.
To make major home repairs.
Ideally, you need to budget and use cash for regular home maintenance and repairs, but large unexpected expenses do occur. You can use a home equity loan or line of credit to address overdue home and property repairs like fixing a leaky roof, replacing HVAC systems or repairing foundation problems.  Unlike elective home improvements like building a pool, these types of fixes protect your investment in your home and make it safer to live in.
To pay down credit cards or other high-interest debt obligations.
The idea here is that you're using a lower-interest loan like a home equity loan or HELOC to pay off higher-interest debt – a car loan, credit cards, student loans or something else. It's a way of consolidating your debt³ and can save you money.
"The math can be very beneficial if you can shift a 20 percent credit card debt to a lower-interest home loan. But remember that you can get into trouble if you don't address the causes of what got you into a consumer debt problem in the first place," Angel says.
Want to find out how you can leverage your home equity? Use our home equity calculators to determine what line of credit you can qualify for and what your loan payments would look like with an equity loan or refinancing4.
Matthew Angel serves as an advice director at USAA, focusing on the personal finance tenets of short-term saving and home advice. Matthew holds professional credentials including a CERTIFIED FINANCIAL PLANNER™ designation, AAMS® and a Master of Business Administration degree from the University of Texas at San Antonio. Matthew's history at USAA includes seven years serving members as a financial planner and leading teams of financial professionals to help members achieve financial security. Outside of work, Matthew enjoys hunting and riding motorcycles, and is a proud husband and father to four kids.
---
¹Subject to credit and property approval. Offer based on the amount of equity in your home, the approved credit limit, credit history and ability to repay the debt. Lower loan/line amounts may result in higher APRs.
²While making interest-only payments, principal is not reduced. Always consider paying more than the minimum payment due in order to repay both principal and interest. At the end of the line draw period of 5 years, you may no longer make interest-only payments. During the repayment period of 15 years, monthly payments will increase, and the increase may be substantial because you will be required to repay both principal and interest.
³Actual monthly payments and any savings from debt consolidation will vary depending on (a) the balance, repayment terms and APR for your line/loan, (b) the balances, repayment terms and APRs of the loans and credit cards you plan to consolidate, and (c) your payment behavior. Since a home equity loan/line of credit may have a longer term than some of the debt you are consolidating, you may not realize a savings over the entire term of your home equity loan/line of credit even if your monthly payments are lower. Federally Guaranteed Student Loans should not be consolidated because you will lose important federal benefits.
4This calculator is a self-help tool. This information is provided for illustrative purposes only and is not a rate quote, pre-approval, or commitment to lend. Rates are subject to change. If approved, your loan terms may vary based on your individual circumstances.
This material is for informational purposes. Consider your own financial circumstances carefully before making a decision and consult with your tax, legal or estate planning professional.
Certified Financial Planner Board of Standards, Inc. owns the certification marks CFP® and CERTIFIED FINANCIAL PLANNER™ in the United States, which it awards to individuals who successfully complete the CFP Board's initial and ongoing certification requirements.
251935 - 0518